A Successful Journey to 4G/5G-based Mission-Critical Mobile Broadband

Migration of mission critical broadband networks is long overdue. TETRA networks have served the critical communication community well, but they no longer support today's demands for high capacity broadband services. As a result, critical communication network providers are transforming their TETRA networks to future-proof and reliable broadband networks based on 4G and 5G technologies. There is a large number of new use cases supported such as multimedia communication with group video calls, drone-based surveillance for situational awareness, eHealth with remote doctors and augmented reality to aid firefighters.
As critical communication network providers migrate to commercial 4G/5G technology, they need to ensure that the new networks and applications meet the same availability targets as the existing TETRA networks. Traditional network monitoring tools no longer meet the requirements, an advanced end-to-end service assurance platform is needed to get the required insight into the performance of the network. In addition to monitoring the end-to-end service performance, the service assurance tool needs to monitor the performance individually for the following segments in the network:
User equipment to base station (radio performance)
Base station to 4G/5G core (mobile backhaul performance)
Internal transport network
Connectivity to critical, public cloud and Internet applications
The segments are illustrated below: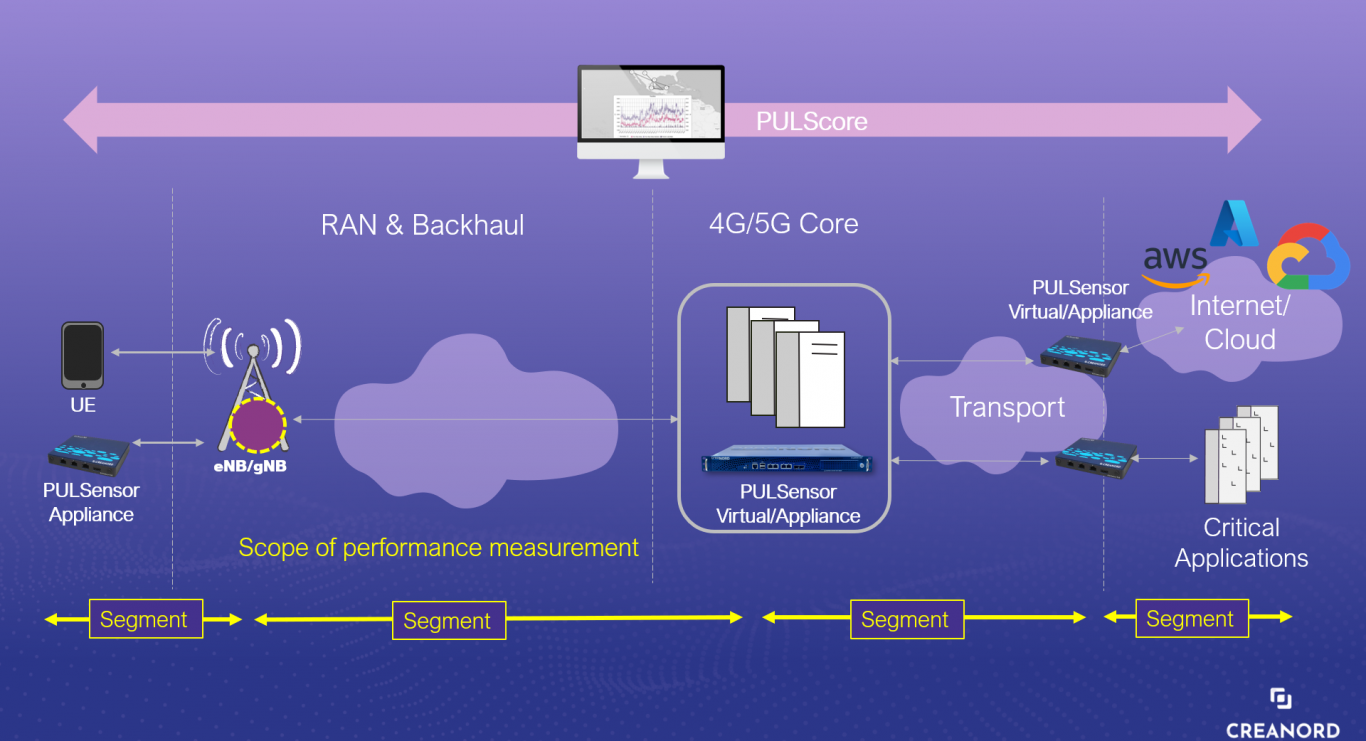 Each segment has specific requirements on the type of service assurance capabilities that are needed:
1. User equipment to base station: Radio coverage is one major source for service performance issues. Radio planning is done by the operator of the RAN and the critical communications provider has no insight into how well the radio planning meets the stringent requirements of critical communications use cases. The operator of the RAN will focus mostly on urban areas in order to optimize coverage for locations that have the most paying customers, while a critical communications provider targets to have consistent performance across both urban and rural areas. Being able to use the user equipment of critical communication users to measure both radio performance as well as application performance allows the critical communications operator to work together with the RAN provider to improve the performance where it is needed.
2.  Base station to 4G/5G core: The critical communications traffic will travel through shared pipes in the backhaul network. Separate service classes are typically used for the critical communications traffic, but in scenarios where there is a mixture of different traffic types and a mixture of fiber and radio links as transport pipes, performance cannot always be guaranteed. The critical communications provider needs to agree with the operator of the RAN that measurements between the 4G/5G core site and base stations can be run. Base stations and cell site routers support TWAMP reflection functionality and by enabling the reflector in the base station, it is possible to monitor the backhaul connection from the 4G/5G core site.
3. Internal transport network: The critical communications provider may have their own transport network for connecting traffic from the 4G/5G core sites to critical applications in private clouds/data centers and/or public cloud and Internet services. The transport network may not have been designed for the massive increase in traffic generated by new video-based use cases. Visibility into the service performance of the transport network is needed in order to pro-actively monitor and determine where to add capacity in the network.
4. Connectivity to critical, public cloud and Internet applications: Finally, to complete the picture of service performance, critical communication providers also need to monitor the service performance to the different applications being used, whether they are critical applications running in private data centers, running in the public cloud or provided over the Internet. The information is vital for correlating end-to-end application performance issues with potential service degradation issues between the edge of the internal transport network and the application server.
Summary
Migration of critical communication networks from TETRA to 4G/5G-based architectures is ongoing in many countries around the world with a promise of delivering many new and beneficial use cases. To be successful in the migration, critical communication providers need to carefully consider how they are monitoring their networks in order to ensure they have the visibility and tools to fix potential service performance issues, preferably in a pro-active way rather than reactive way.
About Creanord
Creanord is a specialist in service assurance with more than 20 years of experience in developing solutions for network service providers and cloud providers. Creanord's service assurance solutions enable accurate tracking of network and application quality and performance and the technology has been implemented in over 30 countries and more than 60 networks globally.