PULScore software – Customer review program
Are you using PULSure solution? Working a lot with PULScore – Centralized network management system? We would like to hear your thoughts and feedback!
You can leave us review about PULScore network management system through Capterra Business Software Reviews site (www.capterra.com). Capterra marketplace helps to connect  buyers to insights from millions of users and verified reviews. The platform allow to compare solutions side-by-side, and access annual ranking reports to find relevant resources. Leaving a review through Capterra is very easy and will take only few minutes to complete. The first 50 reviewers will get a free 15 USD/EUR voucher.
This is what others say about PULScore: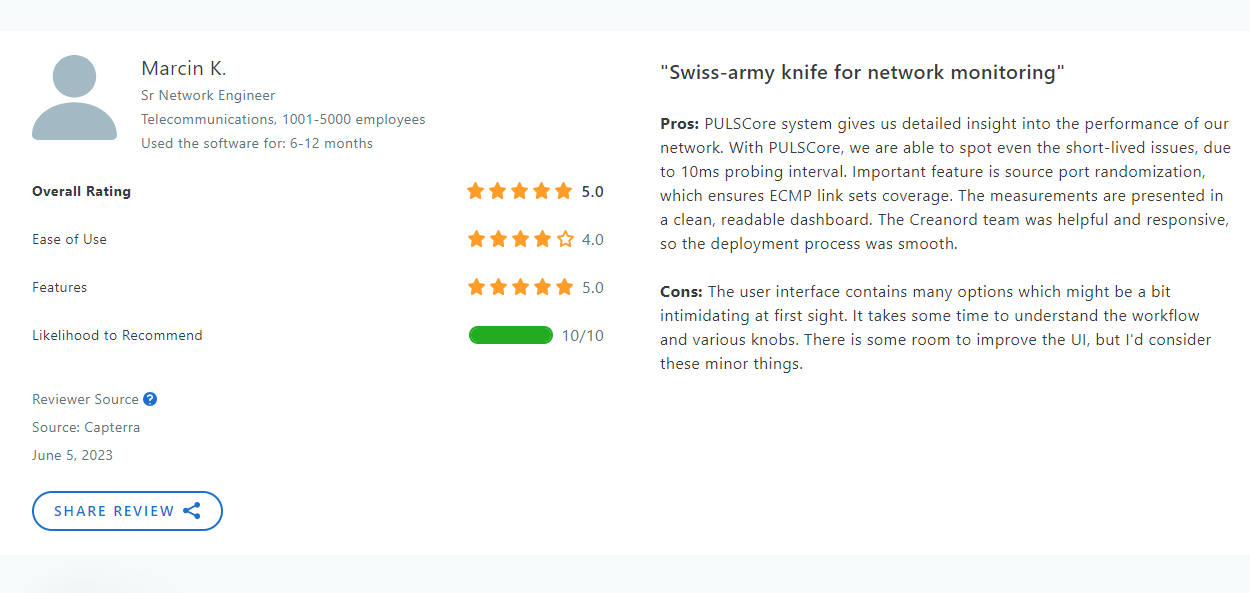 Here at Creanord we value honest and open feedback as it helps us develop our products and essentially serve you better.  You r opinion really matters to us! As each experience is different you can tell us:
How can we serve you better?
How is our software serving your business?
What functionalities do you like the most?
What features would you like to see in the future?
What should be improved?
How is our support doing?
Anything else that comes to your mind?
Your personal information
Are you worried about your personal information?  We understand your privacy concerns and offer an option to leave anonymous reviews. Please carefully check these quick instructions on how to leave anonymous review in 2 steps here. Non-anonymous reviews are also more than welcome!
Thank you very much for taking your time to leave us feedback! Don't forget to redeem your 15 USD/EUR voucher. As an option you can donate it to charity too. 😉
Leave your review (EUR) Leave your review (USD)