Summarizing our participation at CCW 2023 in Helsinki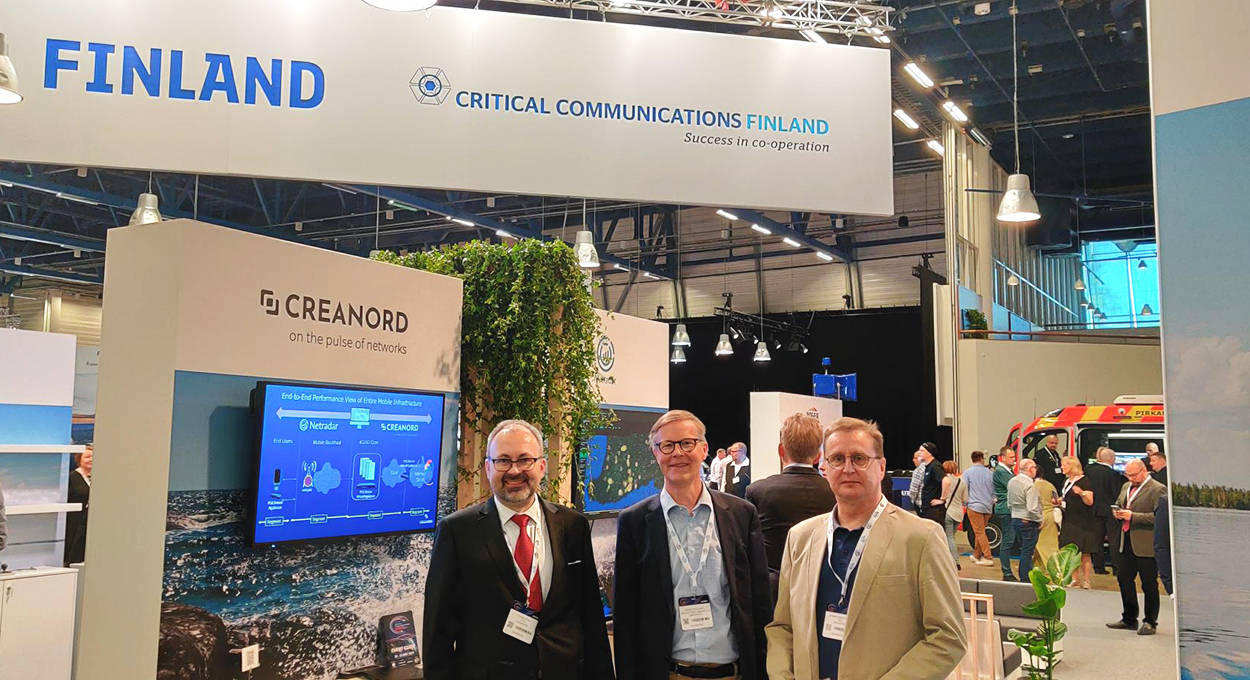 Critical Communications World 2023 took place this week – May 23-25, 2023 in Helsinki. The event was focused on connection and collaboration and brought together 150+ exhibitors, 160+ speakers, and government authorities from 22 countries around the world, which is truly impressive. As Creanord took an active part in the conference, we would like to summarize our participation in the event.
During the first day of the event,  we participated in a panel discussion  on Best practices in optimizing and operating a critical network. Our CTO Claus Still shared his insides on optimizing critical network performance alongside Nokia, Elisa, Mentura Group, and Net Technologies Finland. Apart from public speaking, we also focused on Success In Cooperation, which was the main theme of the conference this year. More than 40 people were visiting our stand with whom we discussed how to successfully migrate to mission-critical broadband.
We brought up availability and performance considerations for critical communications providers who  are planning to migrate to 4G/5G. Also, we talked about Network Performance Monitoring solution (NPM) which can play a critical role in the successful migration.
Some of the event Highlights:
We have officially introduced our latest network performance monitoring probe, the PULSensor 1000 to the market.
We have participated in a panel discussion  on Best practices in optimizing and operating a critical network.
Over 40 people visited our stand.
Missed the event? Here is our brochure!
Check out our CCW2023 brochure here
About Creanord
Creanord designs and delivers network performance quality solutions that build confidence and readiness for communications service providers to create and sell services with service level agreements (SLAs) and quality guarantees.
Creanord PULSure™ is a design framework used for network performance and experience-tracking to customer-specific needs at a fraction of the cost, time and effort of conventional systems. The PULSure solution enables you to set, offer and track network experience-based SLAs and key performance indicators (KPIs) with superior accuracy, giving you insights about the metrics such as speed, latency, jitter, and availability that go far beyond those reported by conventional systems. With the PULSure the service provider gains and preserves
end-to-end situational awareness, performance visibility and control needed to automate, continuously optimize network performance and prevent negative impacts, to meet the most demanding service needs.
Already since 2000 Creanord has served customers globally, operating the most demanding networks and connectivity applications.